I am so thankful for amazing friends! I leave for training in two and a half weeks (ahhhh!!!!) and there is still so much to be accomplished for the wedding. Tonight my lovely friend
Mina
came over to help me with wedding crafts and catch up :) It was great to get so much accomplished as well as catch up with a good friend :) I just love her!
When we started the night she worked to finish up the bridesmaid bouquets that I still had to finish, and I worked on sewing more fabric flowers (they are the death of me! easy but take so much time). When she finished with the bridesmaid bouquets that I had on hand we were at a crossroads of going to buy the items necessary to finish the bouquets and make the boutennaires or sew some more... we chose to go buy flowers!!!
I had already picked up a bouquet of small yellow roses to match the
bridesmaids bouquets
, but I just wasn't sure how I wanted to use them. Here are a few ideas that I was working off of from around the internet: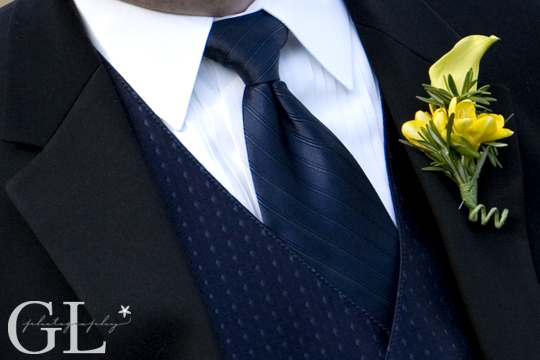 Okay enough of the examples... it's time for me to show you what we came up with!
First here is an adorable picture of Mina excited to work on boutennaires :) (sorry for the blurriness)
And a lovely picture of the mess of fabric flowers strewn all over my living room :)
And here is what we created!
I am so happy with the final product!!!! It is pretty, delicate, vintage yet contemporary at the same time. Everything I was hoping to create!
Here is Mina wrapping the stems with the pewter ribbon (to match the bridesmaid bouquets). And please take a moment to look at her rock! Absolutely gorgeous!
And here is a picture of Cameron's boutennaire. I wanted his to be slightly different and match my bouquet, so I added a calla lilly.
I was really intimidated to start this project, but I am so glad that I took the plunge. They turned out exactly how I wanted them to and I saved so much money by doing them myself. I got the best of both worlds: cost effective and perfection :) This is a happy bride!